No results were found for the filter!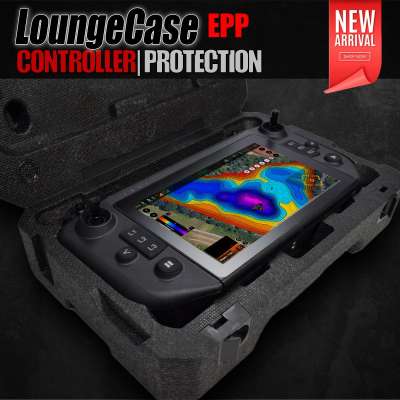 all-in-one-controller-epp-case
Order number:
RT7-EPP-AIO-CASE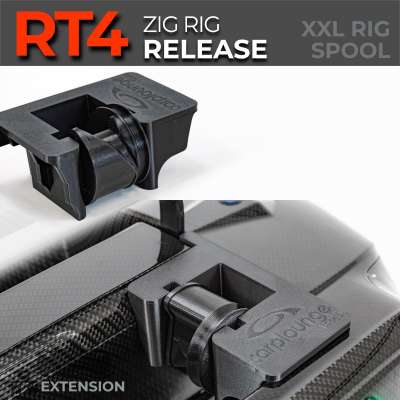 Zig Releaser RT4
RT4 | ZIG RIG RELEASE | XXL RIG SPOOL ZIG RIG RELEASE The unique Zig Rig Releaser is easy to install to the right hopper of any Carplounge RT4 baitboat. An Ultra effective tangle-free system which saves time when fishing long zig rigs (up to 10+ m). DETACHABLE PLASTIC SPOOL There is a detachable plastic spool with magnet which holds the hook with foam or pop-up securely and...
Order number:
RT4-EXT3D-ZIGRELEASE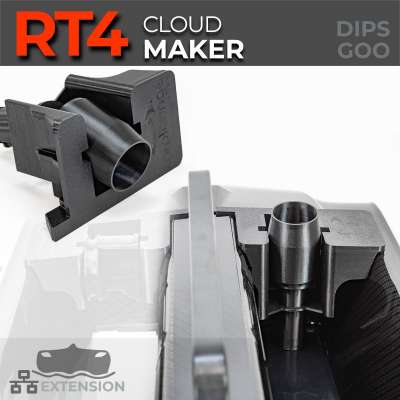 Cloud Maker RT4
RT4 | CLOUD MAKER | DIPS GOO CLOUD MAKER The Cloud Maker can be used to feed fishing spots with liquids or glugs from any Carplounge RT4 boat. EASY TO INSTALL It is easy to install inside the left hopper. Detachable plastic cup with 1dcl (10ml) capacity empties when the hopper doors are opened and creates a cloud with a strong visual and smelling signal for the carp....
Order number:
RT4-EXT3D-CLOUDMAKER
PVA Protector Dropper RT4
RT4 | PVA BAG DROPPER | PVA RAIN PROTECT PVA BAG DROPPER The PVA Protector was specially developed for the use of PVA bags in the Baitboat. PVA BAG IS PROTECTED FROM RAIN Inside the protector, the PVA bag is protected from rain or moisture penetrating through the Hopper doors. Even when using ground bait or wet particles, the PVA bag no longer has to sit on top of wet...
Order number:
RT4-EXT3D-PVADROPPER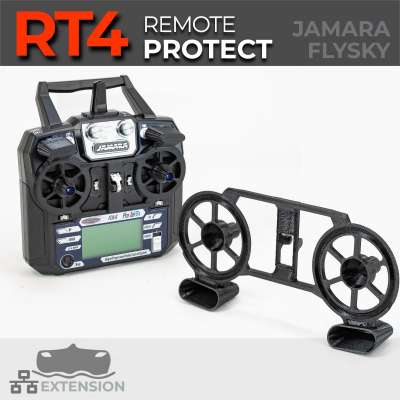 Jamara/FlySky Remote Control Gimbal Protector
RT4 | REMOTE PROTECT COVER | JAMARA / FLYSKY REMOTE PROTECT COVER The Protective cover for the joysticks and switches of the Jamara/Flysky remote control. Defective switches due to incorrect transportation are now a thing of the past. Super light design with maximum stability.
Order number:
RT4-EXT3D-JAMPROTECT
CL V3 Raymarine Transmitter Box Top Cover
RT4 | TMB V3 COVER | SWITCH PROTECT TRANSMITTERBOX V3 COVER V3 transmitter box button and aerial connection cover – prevents the box from accidental switching on during transport. SIMPLY ATTACHED WITH A SCREW NEW! Now a screw is incorporated in the middle section of the cover which can be simply attached to the middle aerial connector.
Order number:
RT4-EXT3D-V3TMBCOV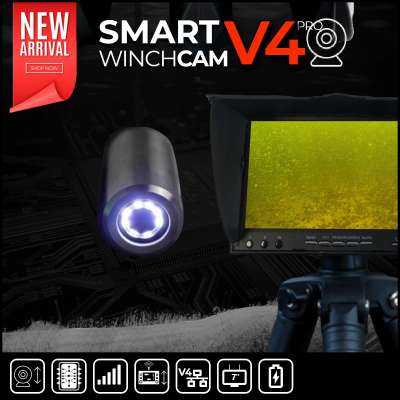 Smart Winch Cam V4 HD Pro | ***NEW!*** | Reg...
Order number:
CAM-WINCH-V4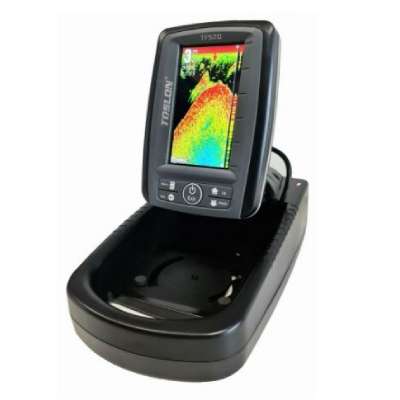 Toslon TF520 Echo | incl. LiIon + Charger
Toslon TF520 Fish Finder The Toslon TF520 is an basic entry colour fish finder specifically designed to be installed on a bait boat that combines not only the reliability of its predecessor - the TF 500 model, but also use modern technology. With its 2.4Ghz frequency, it offers the user a view of the bottom topography and fish signals to a depth of 30m. Its 65,536 colour...
Backorder - currently not in stock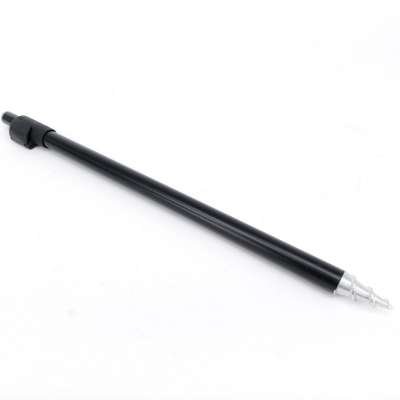 BoatPod FOX Bankstick Black 44cm
FOX Black BoatPod Bankstick 44cm Black Powder coated aluminium Banksticks which are ideal for use with the Fox Carplounge Baitboat stand or RT4 Baitboat Pod Compact Black. Available size 44cm, which can be extended by approximately 75%. Fitted with the Powerpoint tip.
Order number:
POD-BANKSTICK-BLK-44CM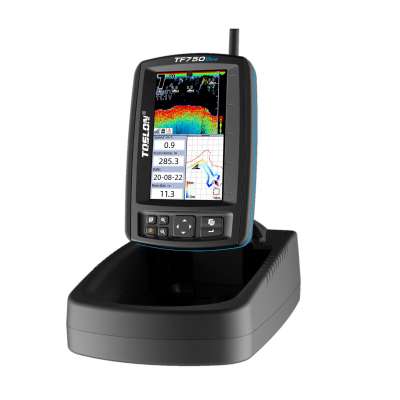 Toslon TF750 DUO Fishfinder | GPS | Autopilot |...
Toslon TF750-duo TF750 is an ALL-IN-ONE Autopilot navigation and sonar system, It provides a multi-target echo and autopilot function. Sonar data of TF750 can be saved to a SD Card as *.csv file, which can be imported to Reefmaster to create 3D maps . It&rsquos also possible to connect the TF750 to laptop, to save depth/coordinates with Reefmaster or Third-party software....
Backorder - currently not in stock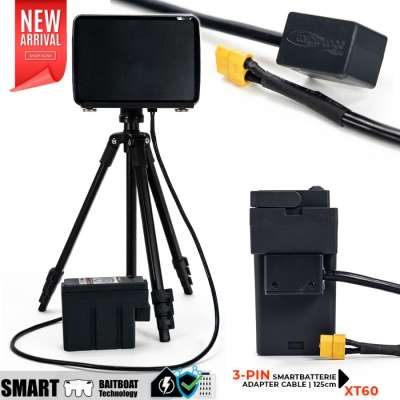 TMB V4 SmartPWR Adapter Cable | 3Pin Con....
TRANSMITTERBOX V4 SMARTPWR ADAPTER CABLE Charge the V4 transmitterbox with your Digital Smart Battery by using the TMB V4 SmartPWR Adapter Cable. Specifications: | Cable Length: 125 cm | Connectors: XT60-Female | 3Pin Connection // Only to be used with the V4 Transmitterbox and Digital Smart Batteries!
Order number:
RT4C-MIKE-3P-XT60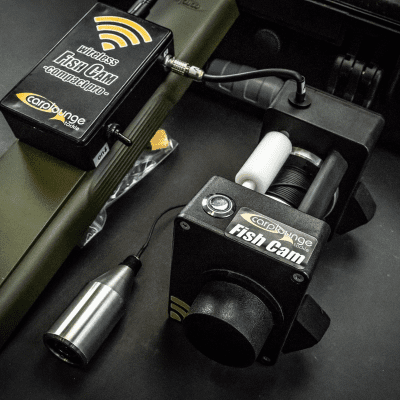 Winch + Scorpion Cam Set compact Pro
New: Winch + Scorpion Cam Set compact Pro 2019 The set consists of our Scorpion Cam in conjunction with the Whinch Cam compact Pro 2019. Via a video switch on the display case can be seen between the Scorpion Cam (eg., Aligned to the front / first person) and explored with the removable camera, the ground high resolution. The perfect combination, also usable separately! Save...
Order number:
CAM-WINCH-FRONT