Cookie voorkeuren
This website uses cookies, which are necessary for the technical operation of the website and are always set. Other cookies, which increase the comfort when using this website, are used for direct advertising or to facilitate interaction with other websites and social networks, are only set with your consent.
Diese Cookies sind für die Grundfunktionen des Shops notwendig.
"Alle Cookies ablehnen" Cookie
"Alle Cookies annehmen" Cookie
Kundenspezifisches Caching
Diese Cookies werden genutzt um das Einkaufserlebnis noch ansprechender zu gestalten, beispielsweise für die Wiedererkennung des Besuchers.
Dit product is momenteel niet beschikbaar!
Carplounge LoungeBox XTRM 12V 4S Lifepo ip67
Productnr.:

XTRM-4S-75

Länge:

28 cm

Breite:

22 cm

Höhe:

26 cm
NIEUW: Carplounge LoungeBox | XTRM | 12V 4S Lifepo Outdoor Charging & Powerstation - IP67! De...
meer
NIEUW: Carplounge LoungeBox | XTRM

| 12V 4S Lifepo Outdoor Charging & Powerstation - IP67!
De volgende generatie van de LoungeBox - de meest verkochte outdoor powerbox!

Nieuw - op voorraad! 75, 100, 125 & 150 AH met grote korting!
geoptimaliseerd voor gebruik in boten en Dinghys!
P67 Rating, waterdichte behuizing en aansluitingen
12V 4s LiFePo batterij met Carplounge SMART BMS
7 aansluitingen voor parallel opladen/bediening op de koffer
HighPower Out voor elektromotoren en andere sterke verbruikers


// XTRM = EXTREME: HOGE KRACHT tot 2000WH!
In de afgelopen jaren hebben we onze LoungeBox duizend keer verkocht als outdoor box in vele verschillende toepassingsgebieden. Met de nieuwe LoungeBox XTRM hebben we ons nieuwe Toploader-concept geïmplementeerd, geoptimaliseerd voor extreme situaties en gebruik op boten.

// Boot & Outdoor geoptimaliseerd.
Onze Loungeboxen worden vaak gebruikt voor elektromotoren op boten (rubberboten).
In een dergelijke situatie is het mogelijk dat het water zich verzamelt in de boot, bijvoorbeeld door hevige regenval, door lekkage of veel deining.
De meeste Powerboxen hebben door het ontwerp, aansluitingen zeer laag op de behuizing zitten. Wanneer de accu enkele uren onder water staat kan dit problemen opleveren. Bij ons nieuwe Toploader ontwerp liggen alle aansluitingen uitsluitend op het bovenste gedeelte van de koffer - zelfs als er 20-25 cm water in de boot zit, bevindt er zich geen aansluiting onder water.

// Probleemloos door Smart BMS en galvanische scheiding
Dankzij de vele aansluitingen, die galvanisch gescheiden zijn, kunnen veel apparaten tegelijkertijd worden opgeladen/gebruikt zonder elkaar te storen, zoals dat vaak bij andere fabrikanten wel het geval is.

// Nieuw: nu ook beschikbaar met Bluetooth BMS!

| Bluetooth Smart BMS - Live bewaking van de batterijstatus via een app

Optioneel kan de LoungeBox XTRM nu ook worden besteld met Bluetooth Smart BMS (Battery Management System) - installeer gewoon de Android of iOS app op uw Tablet of Smartphone.
De app toont en volgt talloze details over de laadstatus, de resterende capaciteit, de temperatuur en het huidige verbruik van de aangesloten apparaten - voor maximale veiligheid en levensduur van de batterij!

// Extreem - Voeding voor buitenshuis
De LoungeBox wordt niet alleen door vissers gebruikt: Ondertussen wordt de Loungebox gebruikt door politie, brandweer, THW en expedities om de teams over een langere periode van elektriciteit te voorzien.
Vooral in "Offroad" situaties kunnen zand, vuil en modder de op de koffer,
laag geplaatste verbindingen verstoppen.
Door de constructie van de Toploader kan deze enkele centimeters in de modder zinken en bovendien is hij gemakkelijk te reinigen.

// 4s LiFePo4
Voor de LoungeBox XTRM Pro vertrouwen we op 4S LiFePo cellen van bekende fabrikanten.
Max. Vermogen door hoge ontladingspercentages
Door het hogere spanningsbereik van de 4S LiFePo in vergelijking met de 3S LiIon cellen is de volledige batterijspanning veel langer beschikbaar en heeft deze dezelfde capaciteit met een langere operationele tijd.

Verbeterde veiligheid
Met ons beproefde Carplounge digitale Smart BMS (battery managment system) is de accu beveiligd tegen overladen, overontladen, oververhitting, overspanning of omgekeerde polariteit.

Gegarandeerde levensduur
Een ander voordeel van de LiFePo technologie is de levensduur: Wij zijn de enige fabrikant die minstens 1500 laadcycli kan garanderen zonder noemenswaardig capaciteitsverlies (in de XTREM-versie).
LiIon of LiFePo?
Naast de bovengenoemde voordelen heeft het gebruik van 4S LiFePo ook nadelen: De grootte en het gewicht van de LoungeBox XTRM is ongeveer 20% groter / zwaarder dan de LoungeBox PRO met 3S LiIon cellen, met behoud van dezelfde capaciteit.

// LoungeBox - de universele krachtbron met 7 Connectors!

De Loungebox aansluitingen maken het een multitool voor elke situatie. Hij kan worden gebruikt als oplader voor voerboten, om verlichtingssystemen van stroom te voorzien en om allerlei elektronische apparaten op te laden.

Met de HighPower aansluitingen is het mogelijk om hem permanent te gebruiken voor elektromotoren, spanningsomvormers tot 1500W(!) Voor korte spanningspieken zijn er tot 2000W beschikbaar.

12V 4S LIFEPO4 - met 75, 100, 125 of 150ah
| 3x USB 3.0 Snellader
| 1x USB-C QC nieuwste Quickcharger Technologie voor Telefoons / Tablet / Laptops
| 1x Sigaret 12V Autoplug
| 2x Anderson High Power Out voor sterke verbruikers
| digitale voltmeter incl. restspanningsindicator en verbruik

// Leveringsomvang

| Loungebox XTRM in 75, 100 of 125AH
| IP67 afdekkappen voor alle aansluitingen
| 2x Anderson-connector - voor eenvoudige aansluiting op eMotoren, echolood ...

Beste prijs-prestatieverhouding:
Naast onze outdoor en instustriële klanten is de Loungebox een inherent onderdeel van de uitrusting voor politie, brandweer, THW en DLRG afdelingen.
Door de enorme hoeveelheid battary packs die we voor onze voerboten en LoungBoxes hebben gemaakt, kunnen we onze LoungeBoxes aanbieden voor een onovertroffen prijs-prestatieverhouding - natuurlijk met onze originele Carplounge-kwaliteit.

Vergelijk de LoungeBox met andere fabrikanten - deel de capaciteit (Wh) door de prijs!

Aan/Uit schakleaar upgrade
Nu standaard met een roestvrijstalen schakelaar! Aan/Uit Schakelaar upgrade: standart met een roestvrijstalen schakelaar!
Net als bij onze voerboten zijn de schakelaars vlak en steken ze niet uit, zodat het bijna onmogelijk is om de schakelaar onbedoeld aan of uit te zetten.

Indicator Upgrade:
De V2 Voltmeter is nu nog compacter en is door het hogere contrast makkelijker af te lezen.

Het grootste voordeel is de capaciteitsspecificatie in %. Met zijn batterijniveau in volt (9,3-12,6V) en bovendien de resterende capaciteit in % (z.B. 50%) heeft de indicator nu meer effect.

Loungebox biedt de volgende kenmerken:
Door het gebruik van moderne Lithium-Ion accu's kan de Loungebox zelfs zeer hoge belastingen effectief voeden zonder dat hij te maken krijgt met zware en ineffectieve loodzuuraccu's. Lithium-Ion accu's hebben echter een stabiele capaciteit, zelfs bij hoge ontlaadstromen, en kunnen daarom van begin tot eind een stabiele stroom leveren.

- De hoofduitgang maakt het mogelijk om hoge belastingen zoals elektromotoren tot 650W/55LBS te laten draaien op zowel opblaasbare als solide casco boten.
- Kan worden aangesloten op de acculader van de voerboot. De Robbe lader en de D6 Duo Pro lader kunnen direct op de Loungebox worden aangesloten. Op deze manier kunt u op uw sessie opladen en hoeft u geen extra voerboot accu's te kopen.

- Aan/uit schakelaar om onnodig stroomverbruik voor USB en 12V apparaten te voorkomen.

- 12V autoaansteker. Voor het eenvoudig aansluiten van een spanningsomvormer die bijvoorbeeld gebruikt kan worden voor het voeden van koelkasten voor kamperen, vissen of festivals.

- De dubbele USB-aansluiting voor veelgebruikte laadspanningen 1,0A en 2,1A voor het snel en eenvoudig opladen van smartphones, tablets, etc...

- De multiconnector kan worden gebruikt om de interne batterij op te laden. Dit biedt ook de basis voor de uitbreidingsmogelijkheden die binnenkort beschikbaar zullen zijn, zoals tentverlichting, muggenbescherming, verlichtingssystemen voor brandweerkazernes, politie, fotografen, etc...

Alle connectoren zijn beveiligd met veiligheidscircuits om spanningsomkering en overbelasting te voorkomen. Dit beschermt niet alleen de batterij, maar ook alle aangesloten apparaten. Alle connectoren zijn van buitenaf toegankelijk terwijl de batterij in de waterdichte behuizing ligt. De waterdichte voltmeter met zijn blauwe verlichting maakt het gemakkelijk om de huidige laadtoestand van de batterij te zien en helpt om spontane uitschakeling van de batterij te voorkomen.

De Loungebox biedt de volgende voordelen ten opzichte van loodzuurbatterijen:

Gereduceerd gewicht en kleine afmetingen
Met behoud van dezelfde capaciteit (Ah) zijn Lithium Ion accu's beduidend lichter en smaler dan loodzuuraccu's. Loodzuuraccu's hebben de negatieve eigenschap dat ze minder capaciteit hebben voor een hoge ontlaadstroom, wat weer leidt tot een aanzienlijk lagere gebruiksduur. Dit betekent dat Lithium Ion accu's een dubbele levensduur hebben. (zie ook de Peukert-vergelijking)
- 50 Ah LiIon Batterij 5,3 kg staat gelijk aan een 105 Ah Loodzuurbatterij van 33KG!
- 75 Ah LiIon Accu 6,9 kg staat gelijk aan een 150 Ah Loodzuuraccu van 44,5 kg!
- 100 Ah LiIon Accu 7,4 kg staat gelijk aan een 200 Ah Loodzuuraccu van 60 kg!
Behuizing van alle LoungeBox types: Slechts 35x26x11cm!

Snelle lading
Met de meegeleverde 9.0A lader worden de batterijen snel en veilig opgeladen. Zelfs de 100A versie van de Loungebox kan binnen 10 uur worden opgeladen. Een vergelijkbare 200Ah loodzuurbatterij zou enkele dagen nodig hebben! Uiteraard wordt deze na het laden van de accu automatisch uitgeschakeld om overbelasting van de accu te voorkomen.
Duurzaamheid
Lithium Ion batterijen kunnen tot 3000 keer worden opgeladen, wat 6 keer meer is dan vergelijkbare loodzuur batterijen. Bovendien blijft de capaciteit gelijk en wordt deze in de loop van de tijd niet aangetast zoals bij loodzuuraccu's het geval is. Andere voordelen zijn letterlijk geen geheugeneffect en zeer weinig zelfonttrekking.
Gebruik
De hoogwaardige buitenkoffer beschermt de Lithium-Ion cellen tegen wind, regen en ruw weer. De accu is daarom spatwater- en weerbestendig en dus niet alleen op zonnige dagen veilig te gebruiken. De koffer is eenvoudig te vervoeren en daardoor een prima metgezel voor elke vorm van buitenactiviteit. Vooral door het lage gewicht en de kleine afmetingen.

Meer dan een Power Bank!
De Loungebox werkt op 12V, wat een veel hogere laadcapaciteit oplevert dan USBPower Banks die met 5V werken. Bv. 10Ah Power Banks 50 watturen (Wh), 20Ah Power Banks 100Wh, 250Wh 50Ah. De Loungebox heeft afhankelijk van de apparatuur 600-1200Wh en dus laden mobiele telefoons, tablets, etc. veel vaker op. Hier is een voorbeeld op de iPhone 5S geladen met de LoungeBox:

50Ah @ 12V = 600Wh = 60+ opladen van een iPhone 5S
75Ah @ 12V = 900Wh = 90+ opladen van een iPhone 5S
100Ah @ 12V = 1200Wh =120+ opladen van een iPhone 5S

Waarom is een LiIon-batterij superieur aan een normale loodzuurbatterij?
De LiIon accu maakt gebruik van verschillende componenten die leiden tot een aanzienlijk hogere energiedichtheid (en dus een lager gewicht). Tegelijkertijd biedt dit een lagere interne weerstand (constante spanning, zelfs bij hoge belastingen).Dit maakt hem de eerste keuze voor hoog vermogen elektromotoren. In tegenstelling tot Lithium Ion accu's mag een loodzuuraccu nooit volledig ontladen worden (maximaal 70% van de totale capaciteit). Door het lood dat in dit soort accu's wordt gebruikt is de energiedichtheid beduidend lager en het gewicht beduidend hoger dan dat van LiIon accu's. Bovendien leidt de hogere interne weerstand van de loodzuurtechnologie tot een lagere spanning bij hoge belastingen en ook tot meer warmte in de accu, wat weer leidt tot een verdere afname van de prestaties. Concluderend kan worden gesteld dat de LiIon technologie op dit moment de krachtigste, meest compacte en lichtste accu op de markt is.


Eigenschaften "Carplounge LoungeBox XTRM 12V 4S Lifepo ip67"
| | |
| --- | --- |
| Pow. Out: | 1000W |
| Peak (W): | 1,000 |
| Width-B(mm): | 22 |
| Lenght-A(mm): | 28 |
| Car Plug: | 1x Cigar. Con. |
| int USB-C: | 1x (USB Typ-C QC) |
| int USB QC: | 3x (USB Quickcharge) |
| Max Chg (A): | 30 |
| Peak (A): | 113 |
| LoungeBox Typ: | XTRM |
| Constant PWR (A): | 75 |
| Watthour (Wh): | 1000 |
| KG: | 10.00 |
| Capacity (Ah): | 75 |
| Volt (V): | 12 |
| Li-Celltyp: | 4S LiFePo | 12.8V |
| Height-B (mm): | 26 |
Lees, schrijf en bespreek beoordelingen...
meer
Klantbeoordelingen voor "Carplounge LoungeBox XTRM 12V 4S Lifepo ip67"
Beoordeling schrijven
Beoordelingen worden na controle vrijgegeven.
Fragen und Antworten
mehr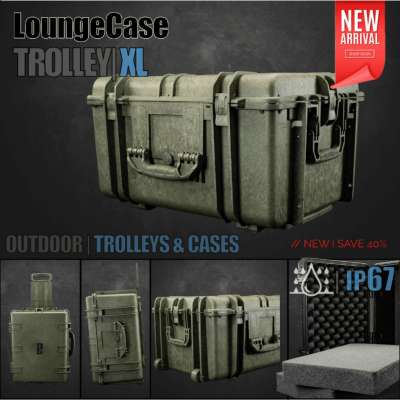 LoungeCase Trolley XL | Green | 67x51x36cm |...
In het winkelmandje